Will Work For Sensors
I've been involved in the ev3dev project for almost a year now. Up to now, everything I have done has been on GitHub, but this is a more personal message, so posting it on my personal website.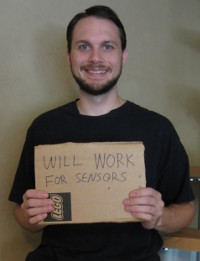 This is an open offer to anyone interested in ev3dev. I will provide drivers in exchange for hardware. I don't have a "regular" full-time job, so I have more time than most people to devote to this. Here's how it works:
You have a sensor or other device that you want to get working with ev3dev.
You have posted an issue on GitHub asking about it. If no one steps up to the task, we will add a "HELP WANTED" tag to the issue.
Contact me at the link above or the email on my GitHub profile and say that you would like me to get it working for you.
I will send you my mailing address and you will send me the sensor (or whatever it is).
I will make the thing work with ev3dev.
You will be happy that it works now.
I get to keep what you sent me in return for the that work I did.
Of course, if you are not happy or I cannot make it work, I will return what you sent me. Also, if it is a very expensive item (> $75 USD) and for a good cause (like FTC), I will probably be willing to do the work if you just loan me the hardware.